WP Masker Aid
Winter Park Masks Strong Unmasks WP Generosity
by Anne Mooney / May 22, 2020
In a feel-good story all its own, two former arch-rivals, Kim Allen and Sandy Womble, have joined forces to lead a loosely organized, organically grown group of local volunteers to sew and distribute cotton masks. It's called Winter Park Masks Strong. According to the mask makers, together Kim and Sandy form "the glue" that holds the effort together and keeps it moving. They even have a Facebook page – Winter Park FL Masks Strong. Go to https://www.facebook.com/groups/228128931582495/
Two Hundred Masks?
It began for Ruth Heine on March 22nd, when she received a call from Father John Bluett of St. Stephens. He knew Ruth was an accomplished seamstress and he asked if she would sew some cotton masks — 200 of them – for Seminole County Health Department healthcare workers.
Ruth said, at first, she couldn't conceive of making so many masks. She consulted YouTube, found the information she needed and whipped out those 200 masks in two or three days. Gaining momentum, Ruth called her friends and began taking requests for masks. She then sent an email blast to the Orlando Garden Club to offer masks.
Almost 1,000 Masks Later . . .
Initially, the masks were made from materials Ruth had on hand. Soon, however, she found materials, especially quarter-inch flat elastic, difficult to find. Word of the shortage reached Pat Estes, who had retreated to Kentucky to be near family during the pandemic. Pat went to her local sewing supply store, found 28 yards of elastic and sent it to Ruth. In a gesture of gratitude, Ruth sent 35 masks to Pat's daughter-in-law's veterinary practice in upstate New York. As of this writing, Ruth had made just over 900 masks.
"I will probably hit 1,000 masks if the demand continues and the need is still there," she said. "I can make about 25 a day. The most I've done is around 40." Recently Winter Park Masks Strong delivered 130 of Ruth's masks to workers at Vitas Hospice.
Winter Park Masks Strong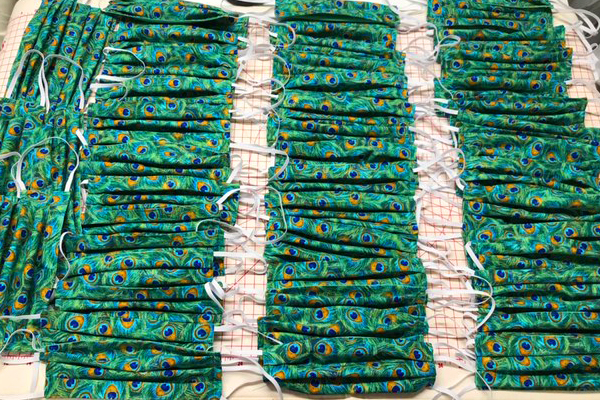 Kim Allen and Sandy Womble brought Ruth into their Winter Park Masks Strong group of 15 or 16 men and women who are making masks for people and organizations all over the city. The group describes itself as a band of Winter Park residents who care deeply for our community. A letter included with each bag of masks delivered states, "These masks are for you from our tribe."
Members of the Tribe Come and Go
Usually, says Kim Allen, when one steps out another steps in to take his or her place. Pannullo's and Armando's restaurants got masks made by Melody Cortez from the Blue Bamboo Center for the Arts. A la Scarlet O'Hara, Melody made over 200 masks out of black curtains she had on hand. Patty Pope made 52 masks for the Winter Park Day Nursery, which stayed open to care for children of essential workers. Christine Girand started making masks, and soon enlisted the help of Jan Hommel and other neighbors.
Ad Hoc Group of Volunteers
People who don't sew also help. Kim Burst Wood donated designer fabric. Melanie Love and Missy Cassell-Hamby donated bolts of fabric. Kim Allen and Peter Gottfried have cut over 30 yards of fabric. Some volunteers cut, some sew and some deliver.
At first, everyone was doing their own thing, depending upon which YouTube video they consulted. People raided their own supplies of fabric, elastic and thread. The materials acquisition part of the effort sent volunteers on nation-wide searches for supplies. Materials came from friends as far away as Oklahoma and Kentucky. Masculine-looking fabric was in high demand, especially after Melody Cortez ran out of black curtains.
Mask Design Becomes Standardized
Now volunteers are making one pattern with pleats. The pattern comes from the Sewing Studio in Maitland. The fabric, elastic and nose pieces come in kits to be assembled by sewers. Fabric is washed and pre-shrunk and put into cellophane envelopes along with elastic. Two different fabric patterns ensure the wearer knows which side should go toward the face.
City Hall Workers Get Peacock Masks
Kim Allen and Sandy Womble provided masks made of peacock fabric to Winter Park City Hall workers. Retired Advent Health nurse Trudy Mitchell delivered masks to workers from ANGCO Highway Stripping who were working on the I-4 Ultimate.
Ruth Heine, who will quantify anything, says, "You can get two masks out of one yard of elastic. Two yards of 44-inch-wide fabric will yield 24 masks. All of this is by word of mouth," she went on. "People I don't even know have contacted me. I even did a mask for a four-year-old."
"You'd have thought I was handing out $50 bills!"
Kim Allen recalls walking along Park Avenue, offering masks to restaurant workers who were filling to-go orders. "You'd have thought I was handing out fifty-dollar bills," she said. "Those people were just thrilled to get masks." Kim ended up handing out masks to workers at places including Prato, Luma, Umi, Panera, Carrie's Café and Go Gelato.
Pandemic Politics
When she was asked about the controversy that has arisen about wearing masks, Kim replied simply, "You wear your seatbelt when you drive, don't you?"
"I feel this is one thing we have in common – to keep each other safe – regardless of our other beliefs," said Ruth Heine.
3,000 Masks Later
Since March, this group of volunteers has made and distributed nearly 3,000 masks. It has all been by word of mouth. WP Masks Strong is not incorporated, but they will accept donations, as materials are surprisingly expensive. A single spool of thread, for instance, can cost as much as $5.00. To donate, contact kimberleallen@gmail.com
Or go to their Facebook page, Winter Park FL Masks Strong, and say thanks.
Happy Mother's Day!
City Hosts Special Mother's Day Weekend
by Anne Mooney / May 6, 2020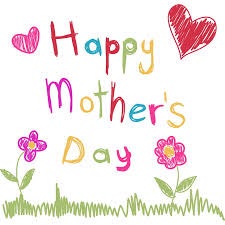 May 8 – 10, the City is hosting a special Mother's Day weekend of socially-distanced restaurant dining and limited retail therapy.
Streets Closed for Distance Dining and Shopping-Withdrawal Relief
To facilitate safe outdoor dining, portions of Park Ave., Morse Blvd. and New England Ave. will be closed to vehicular traffic from 4:00 pm Friday, May 8, to 11:00 pm Sunday, May 10.
Park Ave. from Swoope to Fairbanks
New England Ave. between Pennsylvania and Virginia Ave.
Morse Blvd. between Center St. and New York Ave.
All Shops & Restaurants May Participate
Outdoor shopping and dining is not limited to Park Ave. and Hannibal Square, however. Any retail store or restaurant within the City limits may apply for a permit from the City to extend their business outside. The permit is good only through the weekend.
Restaurants and shops must maintain the 6-foot required distance between patrons outside and limit inside occupancy to 25 percent of capacity.
Mini-Sidewalk Sales
Retail shops must also adhere to the 25-percent-capacity rule, but they may also have a single merchandise rack or table on the sidewalk outside the shop.
Each business will bear the responsibility of ensuring its customers meet social distancing requirements at all times. "As we continue to take methodical steps to reopen the City following the State guidelines, we are hosting this special weekend to help our business community and to give the public a chance to support our local businesses and celebrate Mother's Day," said Assistant City Manager Michelle Neuner.
Library Runs Amuck
While COVID-19 Still Looms
by Anne Mooney / May 1, 2020
Cautious Re-opening Plans
At its April 27 meeting, the Commission led off discussion with a tentative plan to lift restrictions on public facilities. Effective May 1, the golf course opens with social distancing and other restrictions. For complete information, go to cityofwinterpark.org/golf
Some retail shops and restaurants will also open on a limited basis. The Tennis Center, Boat Ramps, Dog Park and Farmer's Market remain closed for the time being. Sadly, hair salons did not make the cut, either.
Plea for Patience and Protecting Medical Workers
Commissioner Carolyn Cooper pointed out that we are nowhere near having a full understanding of the novel coronavirus, citing reports in the Washington Post and elsewhere describing young infected victims, who were asymptomatic but whose vital organs were being attacked by the virus and who had suffered blood clots and strokes, leaving some permanently disabled or deceased.
In a passionate plea for the safety of doctors and other medical personnel, Cooper urged citizens to have patience and to observe protective protocols. "Masks," she said, "are less to protect the wearer than they are to protect others from infection by asymptomatic people who are carrying the virus but who don't know they are. We need adequate testing," she stated, "before it is safe for us to go back to our normal lives.
"Consider the health and safety of those we turn to for help when we are least able to help ourselves," she urged.
Site Prep at Library-Events Center Runs Amuck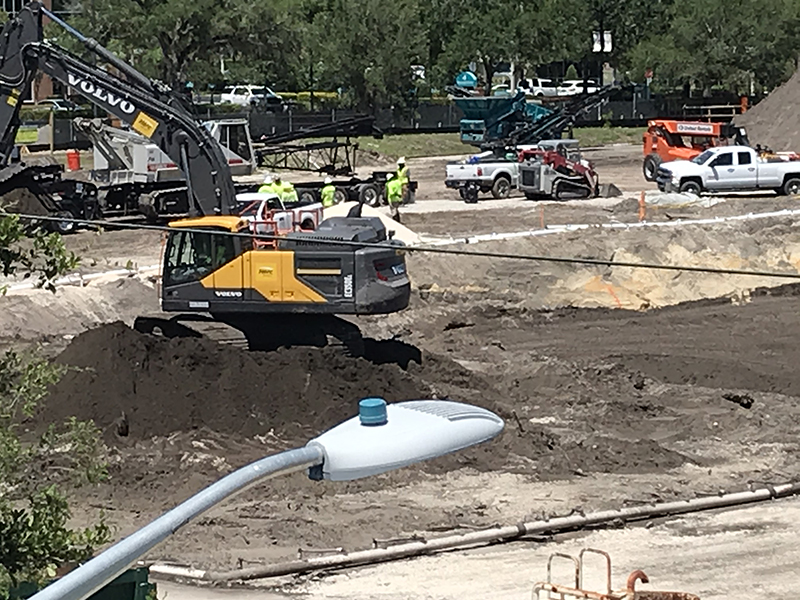 After several months of distraction – like city elections, coronavirus, chickens — the Library-Events Center project once again floated to the surface – but the discussion was about what lies beneath the surface. Demucking and soil remediation of the site is underway. Brasfield & Gorrie is doing the work.
Go Back a Year to the GMP
Last year, at a May 2019 Commission Meeting, the contractor, the architects, the engineering firm and the owner's representative for the library-events center project presented a project budget that included the long-awaited Guaranteed Maximum Price (GMP). In that budget, there was an allowance for soil remediation. During the meeting the estimated price, which was first at zero, climbed to $100,000, then to $150,000 and finally settled at $180,000. It was an 'allowance' instead of a line item cost, because at the time the contractor, Brasfield & Gorrie, and the geotechnical engineer, Ardaman, were not sure what they would find when they began to dig.
Commissioner Carolyn Cooper stated that she had consulted several architects not involved in the project who indicated the amount was insufficient. When Cooper brought this up at the May 2019 meeting, city staff present at the meeting dismissed her concerns as unfounded. "We're dealing with professionals," they said, "and they know what they're doing."
A Year Passes – Demucking Costs More than Double
At the April 27, 2020 virtual Commission meeting, City Manager Randy Knight reported that demucking costs have climbed to between $400,000 and $500,000. This could eat up close to half the City's contingency fund, which Knight said was between $850,000 and $900,000 — a large hit this early in the construction process.
"Good News – Bad News"
In a communique with Commissioners and Senior Staff dated April 24, 2020, Knight wrote: "The good news/bad news. As you may recall, the commission chose to have the contractor do the demucking instead of city staff. The good news is the city can't be blamed for delays in it taking three to four weeks longer than projected. The bad news is we are paying contractor costs instead of city costs for the labor and overhead. The allowance for this work . . . based on Ardaman's projections of unsuitable soil was $180,000. We asked [Brasfield & Gorrie] to give us a best and worst case scenario for the remaining 5 sections . . . . In the worst case scenario this will hit the contingency for $318K. In the best case scenario it will be over by $227K."
According to the memo, Brasfield & Gorrie had just completed week three of demucking and was projecting an additional five weeks to finish the job. They have found more unsuitable soil than Ardaman projected and have had to dig four to five feet deeper in some places. They will also have to demuck further to the west than originally projected.
Who Should Pay?
Acknowledging that the City will likely have to bear the burden of these costs, Commissioner Cooper urged Monday night that, in light of the assurances offered in the May 2019 meeting, "the City should have some opportunity for cost sharing – meaning, those representing the City's interests should remind [Brasfield & Gorrie] of that."
Rewind to 1958 – Muck Makes News
The Winter Park Sun reported in 1958 that the 21-acre site now known as MLK Park, recently acquired by the City by purchase and by condemnation, was in bad shape. "One-third is covered by muck which at some places goes 40 feet deep," the Sun reported. "Heavy structures cannot be erected because of the swampy and soft condition of the land." Then City Manager Clark Maxwell told the Sun, "The entire area has to be investigated and the ground tested before it is possible to determine how to develop it."
The Sun went on the report, "Mr. Maxwell thinks that it would be a good idea to pump out the lake [Mendsen] and enlarge it considerably and use the residue to fill and elevate the surrounding land. It seems, however, probable that soil has to be brought in to a large part of the area to give it a firm surface. Under such a plan, the swampy Mendsen Lake would become a beautiful attraction and asset."
Delays Are Nothing New
In a later article, the Sun reported the opening of the West New England recreation area – now MLK Park – had been delayed "because of the need to fill in much of the ground." To supplement the soil residue they were using as landfill, Mayor Raymond W. Greene had requested contractors working on major jobs in the city to bring their construction debris to the site for use as landfill. Mayor Greene assured residents the landfill had been provided and trucked in at "no cost to the City."
Does any of this sound familiar?