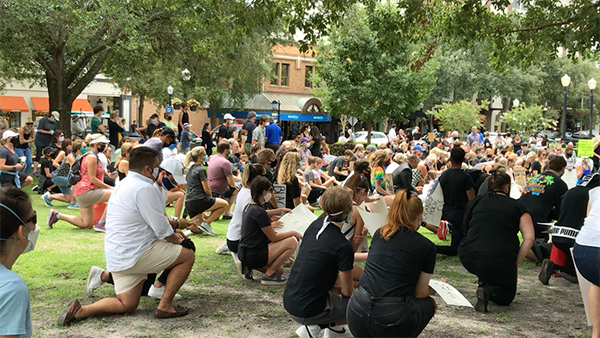 Black Lives Matter in Winter Park
Peaceful Demonstration in Central Park
by Anne Mooney / June 11, 2020
It's been nearly a week since demonstrators gathered peacefully on June 5 in Central Park to support the Black Lives Matter movement and to mourn the deaths of George Floyd and others at the hands of law enforcement officers.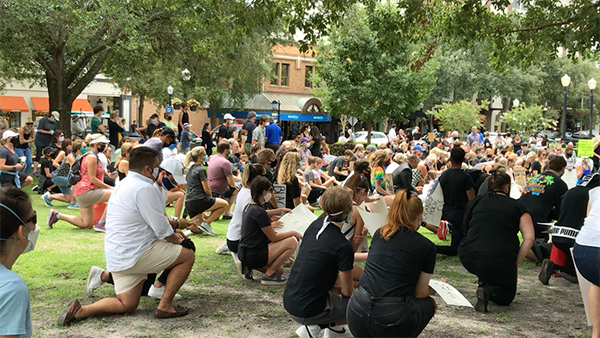 A crowd of roughly 300 baked in Florida humidity and 90-degree heat. Young and old, black, brown and white, they took a knee to stand for the future they want to see.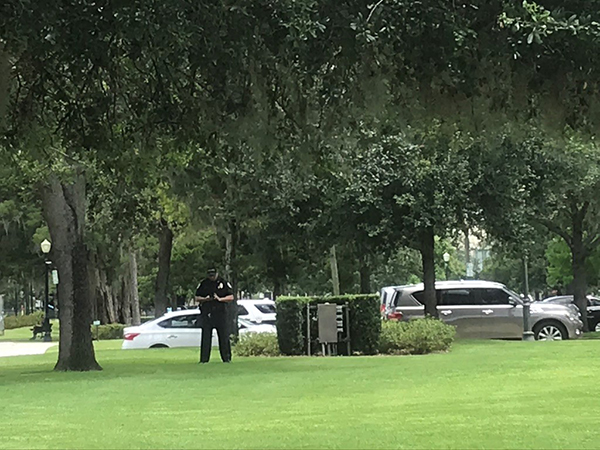 Watchful Winter Park police officers kept a respectful distance.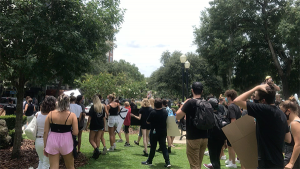 After listening to speakers, several of whom were from Winter Park's African American community, the group joined in prayer. The youthful organizer of the gathering, Adrian Bouchout, asked the crowd to remain peaceful as they turned to march out of Central Park and down Park Avenue.
The crowd marched down to Fairbanks and back up through the Hannibal Square neighborhood, finally ending up at the Public Safety Building, where protesters and police thanked one another for a peaceful and successful event.
Present at the rally were Commissioners Marty Sullivan, Sheila DeCiccio and Todd Weaver. Later in the week, Sullivan and DeCiccio sent messages to constituents.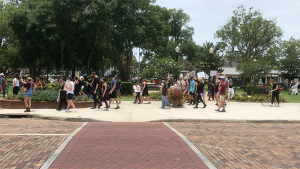 DeCiccio Calls for Support for Police
"I believe it's essential for our Police Department to have the support it needs," wrote DeCiccio. She spoke with Police Chief Michael Deal, who confirmed that the Police Department adheres strictly to the following policies.
No chokeholds or strangleholds.
De-escalation is required, and officers have received special training.
Officers must issue a warning before firing a weapon.
Officers must exhaust all other means before shooting.
Officers have a duty to intervene when they see a breach of procedure, especially one involving excessive force.
Shooting at moving vehicles is prohibited.
All officers are required to employ the "use of force continuum."
Comprehensive reporting of all incidents is required.
Chief Deal stated the WPPD has zero tolerance toward police brutality.
The body cameras that were approved last year by the city commission arrived just as the COVID19 crisis hit, so the department is still in the process of training officers on their use. Deal said, "Everyone is looking forward to wearing their cameras."
Sullivan Calls on Winter Park to Support All of Its Citizens
In his message to constituents, Commissioner Marty Sullivan wrote, "We have outlawed government mistreatment of minorities, but we have yet to exterminate racism."
He called on the city to hold a referendum on single-member districts, to provide participation from all neighborhoods in city government, to reflect citizen desires with Advisory Board appointments and Commission decisions and to provide infrastructure support for all neighborhoods.
"Peaceful gatherings across the country show that we still care," wrote Sullivan, "we still love our fellow citizens, and we ask, rather demand, that entrenched racism be defeated. Most Americans desire this, and I believe that continuing nonviolent action will bring about this needed change."